Thanksgiving (USA)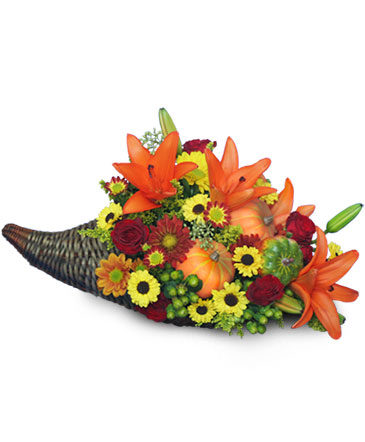 HARVEST HORN OF PLENTY
Arrangement
Rake in an abundance of warm smiles with this radiant Cornucopia Basket...overflowing with an array of seasonal flowers and blooming with harvest accents. Send Thanksgiving flowers online or call MARVEL'S FLOWERS today!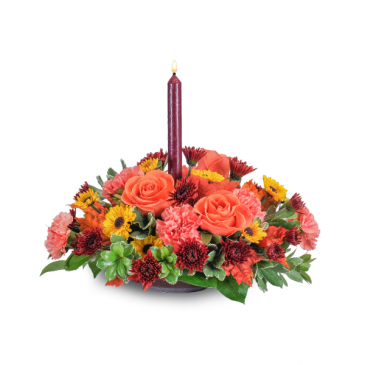 This beautiful selection of fall color flowers with the warm glow of a candle will prepare your table for your special celebration. You just need the pumpkin pie! Orange roses and carnations, spray mums and fall color leaves surround a taper candle in the center.
Say "thanks" with a beautiful Thanksgiving cornucopia. For your Thanksgiving Day flowers, think Marvel's Flowers & Flower Delivery for the best in autumn beauty. Who could resist the golden browns, rustic reds and cheerful oranges? Whether you're hosting a Thanksgiving day feast, or simply getting together with close family, flowers are always welcome around the table. Have extended family who cannot make it in for the holiday? Say you are thankful for them by sending Thanksgiving flowers to their home. Just give Marvel's Flowers & Flower Delivery a call and we'll take care of the rest.